Powerful vacuum pump organizer storage bag BLXCK NORWAY™
Sale price
£49.95 GBP
Regular price
£59.95 GBP
Tax included.
Powerful Vacuum Pump Organizer Storage Bag. Check The Details To Know More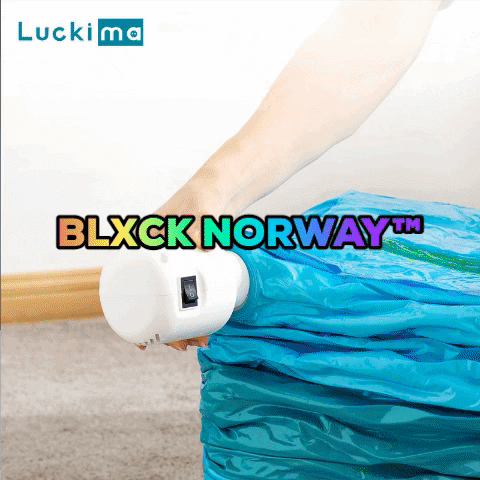 Electric Pump & Storage Bags -  4 medium bags (20 x 28 inches), 3 large bags (24 x 32 inches), and 3 giant bags are included in the electric pump and storage bag set (30 x 40 inches). It can be used for a variety of things! Clothing, coats, duvets, bed sheets, towels, blankets, and more can all be stored here! There's 80% more room in this bag than comparable bags on the market!


Free Electric Travel Pump - These storage bags are ideal for when you're traveling and want to save space so you don't have to bring a lot of luggage. When it's time to repack for your return trip, simply use our free travel pump to make your bags airtight and vacuum-packed once more!


Squeezes Every Last Drop of Air from the Bag - The revolutionary double-zip closure and triple-seal turbo valve are designed to suck every last drop of air from the bag, ensuring that nothing gets back in! Other storage bags allow air into the bag, defeating its purpose. These aren't them!


Increase Your Storage Space -  Increase the amount of storage space in your closet without having to clean it out! Adding more storage space to your wardrobes, closets, garages, basements, lofts, and baggage is easy with our space saver bags.
Sizes - 
Style 1 - S(45*70CM) - 1; M(56*80CM) - 1; L(80*100CM) - 1; XL(110*100CM) - 1
Style 2 - S(45*70CM) - 2; M(56*80CM) - 2; L(80*100CM) - 2; XL(110*100CM) - 1
Style 3 - S(45*70CM) - 2; M(56*80CM) - 3; L(80*100CM) - 3; XL(110*100CM) - 2
The Shipping is Free of cost , We process the orders within 1-3 business days and it takes 5 to 14 days to be delivered. click here to learn more
We want you to be 100% satisfied with your purchase. Items can be returned or exchanged within 30 days of delivery. Click Here to Tearn More
Powerful vacuum pump organizer storage bag BLXCK NORWAY™