Automatic Pet Feeder BLXCK NORWAY™
Regular price
£109.95 GBP
Sale price
£109.95 GBP
Regular price
£149.95 GBP
Tax included.
WIFI with Voice Record food feeder
Need help feeding your pets while you're away?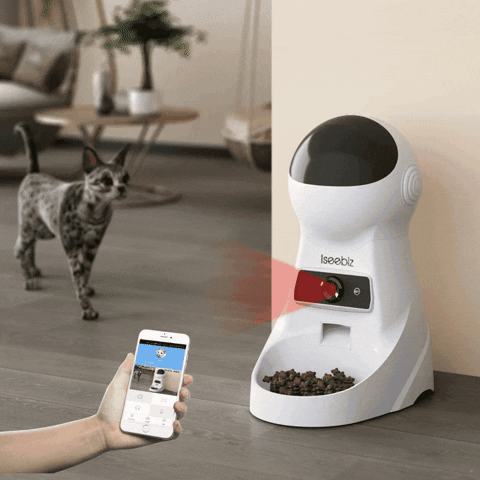 BLXCK NORWAY™ AUTOMATIC PET FEEDER
The Automatic Pet Feeder by BLXCK NORWAY™ is a gadget that feeds your pet at predetermined periods throughout the day. So even if you're traveling on vacation or simply attempting to better control your pet's weight, we've got you covered. The automated pet feeder is a dependable feeding gadget for your cat or dog, delivering proper food quantities based on your pet's size.
You may feel linked to your pet even if you are not at home thanks to the product's look and structure, also the option to record your voice or capture your pet through a version with a camera!
BEST FEATURES
Configure up to four meal times that are minute-by-minute exact. According to the user instructions, the feeding schedule and volume of food may be efficiently and accurately regulated. Excessive feeding is avoided with intelligent feeding.
Record a message for your pets to interact with. Press and hold the "MIC" button until you hear a cue, then record your message and release the button when you're through. By hitting the "Play" button, you may listen to your message. When your pet hears his owner's voice, he will feel more at peace.
All foods are weighed in grams. Your pet will feed joyfully and at predetermined intervals thanks to the moisture-proof and sealing construction. In addition, the soft non-skid material used in the base prevents your pet from knocking the food dispenser over.
To assist your dogs in maintaining a healthy diet, portion management is used, with 1-39 servings (5g-195g) each meal and four meals per day.
CHOOSE FROM FIVE DIFFERENT VARIATIONS
There would be no need to return home to add food because the capacity is up to 1500g. Feed your pet for more than five days, giving you peace of mind that your creatures are well-fed.
It's simple to disassemble and clean the Automated Pet Feeder. It's also safe to put in the dishwasher!
A battery or a power adaptor powers it. So when you're away from home, this is the ideal device for feeding your pet!
Record your voice to call your dogs for meals with the built-in voice recorder and speaker. Sleek design, accessible settings.
Control it with a smartphone app
ADDITIONAL DETAILS
PACKAGE DETAILS
GET YOURS NOW!!
30-DAY MONEY-BACK GUARANTEE
After you receive it, we're so certain you will love it that if you don't, you can send it back. No Hassle. For a full refund.
The Shipping is Free of cost , We process the orders within 1-3 business days and it takes 5 to 14 days to be delivered. click here to learn more
We want you to be 100% satisfied with your purchase. Items can be returned or exchanged within 30 days of delivery. Click Here to Tearn More
Automatic Pet Feeder BLXCK NORWAY™