FOUR-RESISTANCE BAND ELASTIC WORKOUT ROPE BLXCK NORWAY™
Sale price
£19.95 GBP
Regular price
Tax included.
WORK OUT EVERY PART OF YOUR BODY WITH ONLY ONE PIECE OF EQUIPMENT!
With this resistance band from Blxck Norway, you may work out in the privacy of your own home, hotel room, workplace, or even outside. Arms, legs, and back workouts might include sitting exercises to promote stretching and flexibility. Resistance band training may help with rehabilitative activities, weight reduction, and preventing cervical spine and lumbar discomfort, all while keeping your body healthy.
A well-fitting hand design aids in catching flexible foam to safeguard against damage and stretching to increase range of motion. Warm-up before playing sports to reduce the chance of injury and decrease post-exercise aches and pains. Improve joint flexibility and mobility while reducing stress.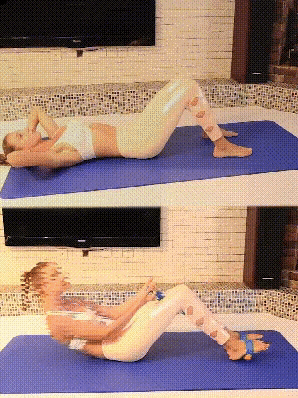 BEST FEATURES
Unique Design - These Training Bands have a compact size and a totally fit hand design. It contains 4pcs pull ropes with higher tensile strength and flexibility than other resistance bands, as well as flexible foam to protect you from injury.
Effective and easy to use – These Resistance Exercise Band Sets may be used in the comfort of your own home, hotel room, office, or even outside. Offer perfect arm, leg, and back workouts, as well as sitting exercises. Stretching and flexibility are improved.
Nature-Friendly Materials - They are non-toxic, safe, and environmentally friendly. It provides protection from temperature change or extreme heat, dampness, slippage and is quite comfortable. These Flexible Physique Fitness Slimming Training Exercise Bands include a foam-wrapped grip and are constructed of NBR green foam and Natural Latex
Premium Quality Equipment - Heavy Resistance Pilates Exercise Equipment is a thick, bold natural latex tube with excellent tensile strength, is durable and pleasant, and has been tensile tested thousands of times.
CHOOSE FROM SIX COLOR VARIATIONS
It is one of the best gifts to your family and friends for healthier living
Health-safety materials - Environmentally safe, non-toxic materials with no stimulation, foam-wrapped handle, and non-toxic materials to avoid adverse effects from climate change, extreme heat, dampness, or slippage.
Protective Materials - Extending your strength and flexibility. Reduce the risk of injury by warming up before activity and relieving aches and pains afterward. Improve joint mobility and flexibility while reducing stress.
Best Equipment - Best workout choice Ideal for toning and strengthening the stomach, waist, and legs, as well as the arms, hips, and thighs.
Be healthier and Fit - The tension rope may be used for a variety of exercises. Your arms, tummy, shoulders, legs, and buttocks will all benefit from this resistance training gear. It's not just a method to reduce weight by exercising, but it's also a means to contour your body with our stomach tuck.
BEST WAY TO USE
GET YOURS NOW!
30-DAY MONEY-BACK GUARANTEE
After you receive it, we're so certain you will love it that if you don't, you can send it back. No Hassle. For a full refund.
The Shipping is Free of cost , We process the orders within 1-3 business days and it takes 5 to 14 days to be delivered. click here to learn more
We want you to be 100% satisfied with your purchase. Items can be returned or exchanged within 30 days of delivery. Click Here to Tearn More
FOUR-RESISTANCE BAND ELASTIC WORKOUT ROPE BLXCK NORWAY™