Camera shoulder strap waist belt blxcknorway™
Regular price
£113.95 GBP
Sale price
£113.95 GBP
Regular price
£145.95 GBP
Tax included.
Camera Shoulder Strap Waist Belt. Check The Details To Know More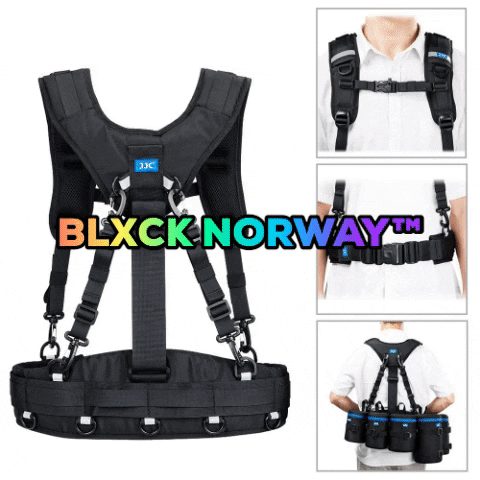 It has a High Load Capacity of 16kg thanks to the use of neoprene and nylon materials. It comes with a two-way Quick Release Plate and is made of solid zinc. Using 1/4 "Without removing the quick release plate, you may simply mount the camera to the tripod using the screw thread.


The neoprene's ergonomic design evenly distributes weight, and all important mechanical parts are reinforced to ensure the safety and durability of the camera's robust metal plate (not plastic!) during use. To minimise slipping or scratching, the board also includes a protective rubber substrate.


Allows you to carry two cameras at once and quickly swap between them. Quick Discharge The Dual Shoulder Camera Strap Harness may also be SEPARATED into two separate straps.


We have added a safety rope, which we strongly advise you to use because it can give secondary protection, allowing you to rest comfortable that the camera will be protected if the screws loosen or fall off. The length of the strap can be easily altered. Fits any camera with a 1/4" thread "Most DSLR SLR cameras can be used with the screw hole.
The Shipping is Free of cost , We process the orders within 1-3 business days and it takes 5 to 14 days to be delivered. click here to learn more
We want you to be 100% satisfied with your purchase. Items can be returned or exchanged within 30 days of delivery. Click Here to Tearn More
Camera shoulder strap waist belt blxcknorway™
Regular price
£113.95 GBP
Sale price
£113.95 GBP
Regular price
£145.95 GBP