Leather belt hole punch plier blxck norway™
Sale price
£19.95 GBP
Regular price
£29.95 GBP
Tax included.
Leather Belt Hole Punch Plier. Check The Details To Know More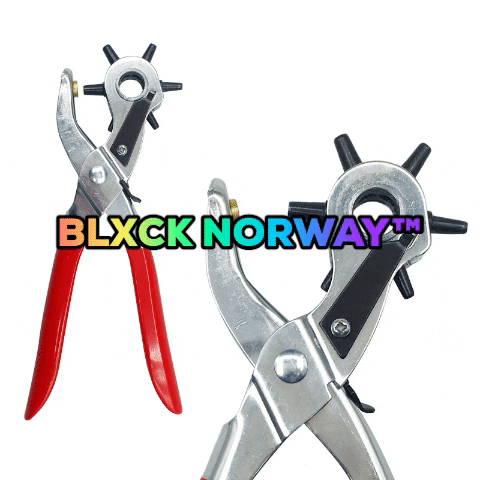 Multi-purpose - Suitable for a range of surfaces. It's a fantastic tool. Punching round holes in leather, belts, plastic, rubber, canvas, cloth, cardboard, saddles, and other materials is a regular task for the punch plier; it's especially handy as a leather hole punch. It comes in six different sizes, making it ideal for both residential and business use.


High Hardness, Good Toughness, and Durability - The durable punch plier is constructed of plated steel, which has a high hardness, good toughness, and durability. To prevent oxidation, metal surfaces are treated with a spray lacquer method. The thickness of the brass pad is designed to ensure safety. We also include a grinding rod in all kits for easy cleaning.


Ergonomic Design - The professional punch plier uses a twin lever mechanism to save you a lot of energy. They're strong and don't require a lot of strength to get flawless holes. The work is made easier by powerful penetrability. The punch plier also includes an anti-slip and anti-environmental handle. The non-slip handle adds to the comfort and ensures that the tool will endure a long time.


Convenient Storage - A stainless clasp is located at the bottom of the punch plier for easy storage. You can buckle the safe lock when you are not working. And the punch plier will shrink in size to save space.


Excellent Product Performance - The punch plier's innovative shape allows you to punch with one hand and make stronger punches; it's especially handy as a leather hole punch. The convenient spring tension provides improved power and comfort, while also fitting your palm and allowing for maximum force output. Easy punching and less hand fatigue thanks to the ergonomic design.
The Shipping is Free of cost , We process the orders within 1-3 business days and it takes 5 to 14 days to be delivered. click here to learn more
We want you to be 100% satisfied with your purchase. Items can be returned or exchanged within 30 days of delivery. Click Here to Tearn More
Leather belt hole punch plier blxck norway™
Sale price
£19.95 GBP
Regular price
£29.95 GBP